Today's guest blogger, Annie from
Arlington Mama
, is truly one of a kind. She has been such a great friend to me that we decided recently that we should just be neighbors....she really is that great! Her wisdom and encouragement have meant so much to me. And did I mention she is pretty creative too!
Just keep reading and you will know just what I am talking about.....


Hello CC friends! It's so great to be over here at Carmella's place. She has become a quick friend, as we have so much in common! She just might be my long-lost sister or something; I'm sure of it. She's the best, but you know that!
So my blog is a little bit of everything, but today I thought I'd tell you a bit about some of the crafting I've been doing lately for a
wedding
that I'm working on for a friend of mine. I'm
cheap and green
(somewhat), so this decor is a challenge in creativity that I absolutely love! It ties into my
cheapness
philosophies on financial and environmental responsibility well. ;)
Okay, so the theme of the wedding is kinda
antiquey-vintage-country
, and the colors are
yellow and grey
, and the
budget is shoestring
. She's getting married outdoors at this gorgeous little farmhouse, and there will only be
40 guests
. Okay, you with me so far?
So there will be 6 guest tables, and
this is kinda what they're going to look like
.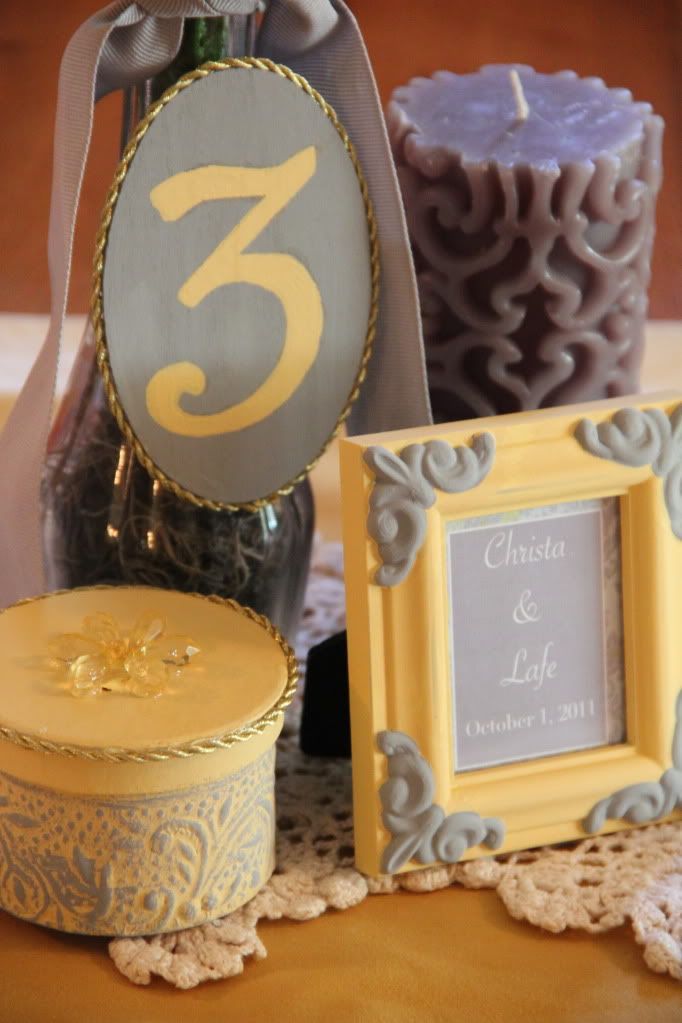 I've already changed it a little, but you get the gist.
At each place setting we are going to put these to double as
place cards and favors
.
They are baby food jars, wrapped in lace and grey ribbon, with a printout of the person's name on card stock. They have tealight candles in them, and I think it will look pretty and sparkly when they're all lit as the sun is setting.
The centerpiece is going to be a quart-sized Mason jar with flowers in it, and I'm going to put one of these in each to identify the
table numbers
.
It's basically a little wooden disc painted with the numbers, outlined with various things (ball chains, gold cording, a gift bag handle) with ribbon and raffia as bows hot-glued to sticks from my backyard. I LOVE the way they turned out, and when they're in flowers, they'll stand a lot better.
The only things I actually bought for this project was the yellow raffia and the discs, probably about $3-4 total. I LOVE the challenge of finding things that I already have and repurposing them into something beautiful.
Frugal and green!
This is for the front table to direct people to the ceremony.
And excuse the iPhone photo, but I made this for the photo booth that will be set up with all sorts of goodies like boas, big glasses, stick mustaches, and more!
The idea came from
something
I saw on Pinterest. Also, the swallows are the same ones from her invitations. I love making it cohesive with graphics.
This is my next project to tackle. It's for the backdrop of the altar. If you want to see the finished product, then come and see me at
Arlington Mama
! The wedding is on October 1st, but I've been giving everyone sneak peeks. I hope you'll come by and see me!
Annie, thank you so much for sharing your creativity with us! I am so lucky to have met you and thanks much for covering for me today so that I would have a little more time to stare at your long lost nephew ;)