One of the many great reasons to live in Tennessee has to be our incredible Fall weather...absolutely my favorite, favorite time of the year living here....The leaves on our 65 year old Maple tree turn the most beautiful shades of red, orange and yellow that they nearly take your breath away.
The hot humid days are replaced by cool, crisp, sunny sweater wearing days and on any given Saturday you might just hear,
"It's FOOTBALL time in Tennessee!"
(just one more reason I have loved calling this state home for the past 11 years)
So..I was more than a little excited to get started with some Fall decorations and with perfect timing, my friend Amy at
One Artsy Mama
has issued a challenge....and it was just the motivation I needed.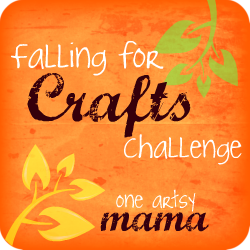 This week's challenge was creating a Fall Centerpiece....and this is what I came up with...
The best part....it only cost $2 to make!! Now that's a price tag that always makes me smile :)
Here's what I used.... (not pictured tree branches from my yard, and my glue gun)
I used the jars from my
Summer Mantle
and added some faux tree bark that I picked up at JoAnn on clearance for .97 cents
After that step was finished, the only things left to do were finding a few small tree branches in the yard ( I had a great little helper for this job) and hot gluing on the Fall leaves I got at Goodwill for $1.00
And here's what the center piece looks like when I add a few of my beloved Fiestaware dishes...
A pretty simple start to my Fall decorating and I love that these will look great on the mantle too...I'm sure they will find their permanent home there considering the little hands already so eager to see how easily the leaves can come off the branches....hehehe
Have you started any Fall decorating? I would love to hear what you have been up to!
Also linked to: