Summertime and fresh lemonade are the perfect combo
Remove wide strips of zest from 2 lemons with a vegetable peeler (do not remove the pith). Make 2 cups simple syrup (recipe below), adding the lemon zest before heating. Let cool, then pour into an ice-filled pitcher. Stir in 1/2 teaspoon salt, 2 cups each fresh lemon juice and water, and some lemon slices.
Simple Syrup: To make 2 cups simple syrup, bring 1 1/2cups each sugar and water to a boil, stirring until dissolved. Let cool.
And how about some fun projects with lemons....
How great are these Lemonade themed printables? I can think of a ton of possibilities for these...thanks to Marry me You via
Sweet Tooth
you can download and print away!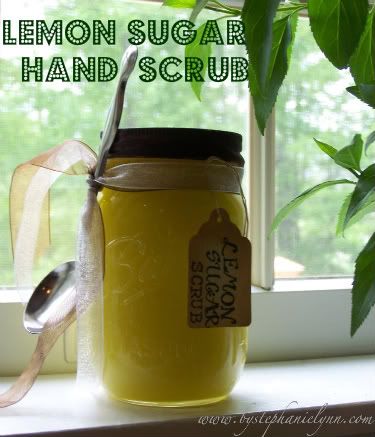 This lemon sugar hand scrub would make a great gift.... the one and only Stephanie Lynn from
Under the Table and Dreaming
gives a beautiful tutorial on how to make it!
Feeling very inspired by summer...this is a painting I did for my daughter's future lemonade stand...she has dreams of making it big in the lemonade business... a girl can dream, right?
Thanks for taking a look at all of my lemony finds!
So, now we know, when life gives you lemons.....I guess you could try making some of these fun things!