Oh, how I love Fridays here at Creative Carmella....
I am constantly amazed by the level of talent that surrounds us in the DIY corner of BlogLand...and I love being able to share my finds with all of you at
First up...is Debbie at
ReFresh ReStyle
. Debbie took part in a Magazine Copy Cat link party...she found a magazine cover that caught her eye, went home and recreated the cover.....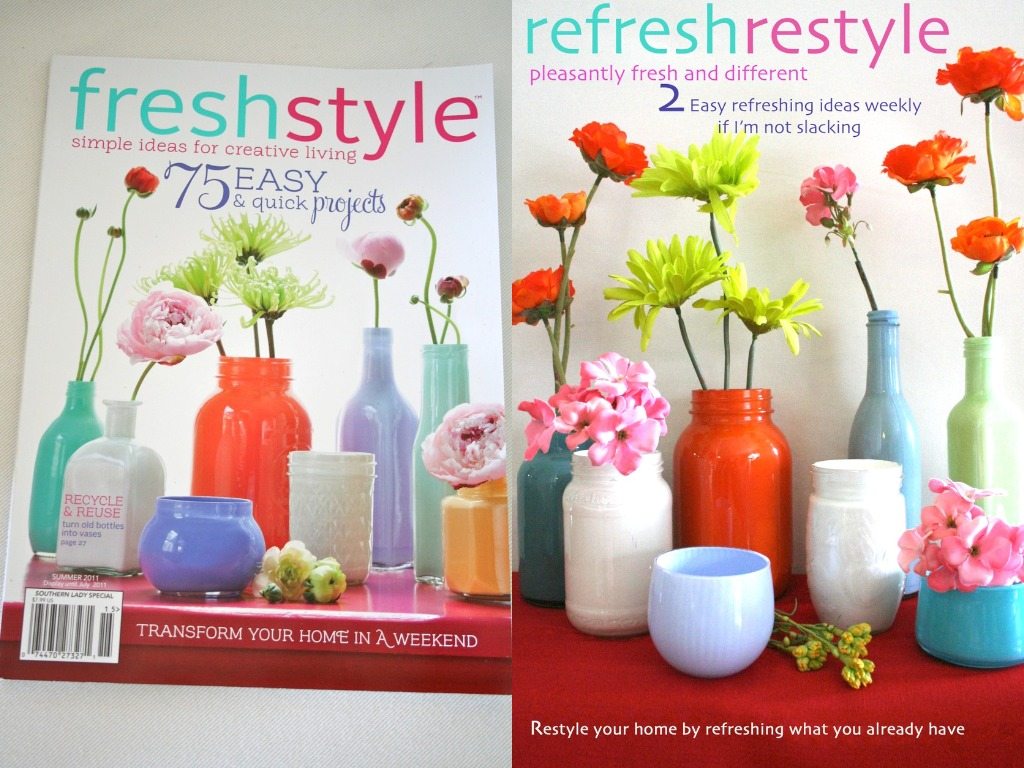 Can you even believe what an amazing job she did??? The original magazine cover is on the left and Debbie's recreated version is on the right. I'm sure I'm not the only one who thinks her magazine cover is better than the original! So happy I stumbled upon her blog this week...I am a super fan now! Go on over and see how you can make some of those beautiful painted jars for yourself!
Next up is also a blog I found just this week from a link party..... Aubree at
Yellow Black Bird
has so many great tutorials with beautiful pictures to go along with them. I spotted these little gems...and knew I would want to give them a try...
Not only does she show a beautiful step by step guide to making these...you can even buy a kit at her Etsy shop if you only want to make one or two....even better you can buy a finished product from her shop too! How great is that? I can't wait to try making a few of these.....so happy to have a reason to buy something sparkly for a project :)
And last, but not least....my friend Lisa from
Creative Raisins
has completely blown me away with the play house she created for her boys....
This was the space before...
And here it is now....
I don't think I have enough words to say about this....it truly blows me away! I have paid good money for my kiddos to play at places that don't even come close to this!
Oh..and here's one more picture of the "create" area...

Amazing, right?? She is one very talented lady and I always feel so encouraged by the comments that she leaves for me too! So...if you have a little time..... stop what you are doing and go check out her blog....you will even see some pretty amazing cakes that she decorates too along with lots of other DIY projects!
Again...thank you ladies for your inspiration, encouragement and for sharing your talent with all of us!
Feel free to grab a featured button too.... it would make me so happy :)
Happy Friday!
~ Carmella